Fees At-A-Glance
Registered students with UC SHIP: CAPS services are pre-paid, no additional fee required
Registered students without UC SHIP: $30/ therapy session, $30/ group session
Late cancellation/late rescheduling/missed individual session: $20
Late cancellation/missed group session: $10
Fee For Service: Limited services are offered for students not registered in current quarter (but registered in the previous quarter) for purposes of crisis management and referral with following fees: $150/therapy intake, $75/therapy follow up, $50/missed session or late cancellation.
All registered UCLA students are eligible for a triage assessment at no cost and consultation with a CAPS clinician. During the Triage Assessment, options for treatment to best serve the student will be reviewed. See Beginning Treatment for more information.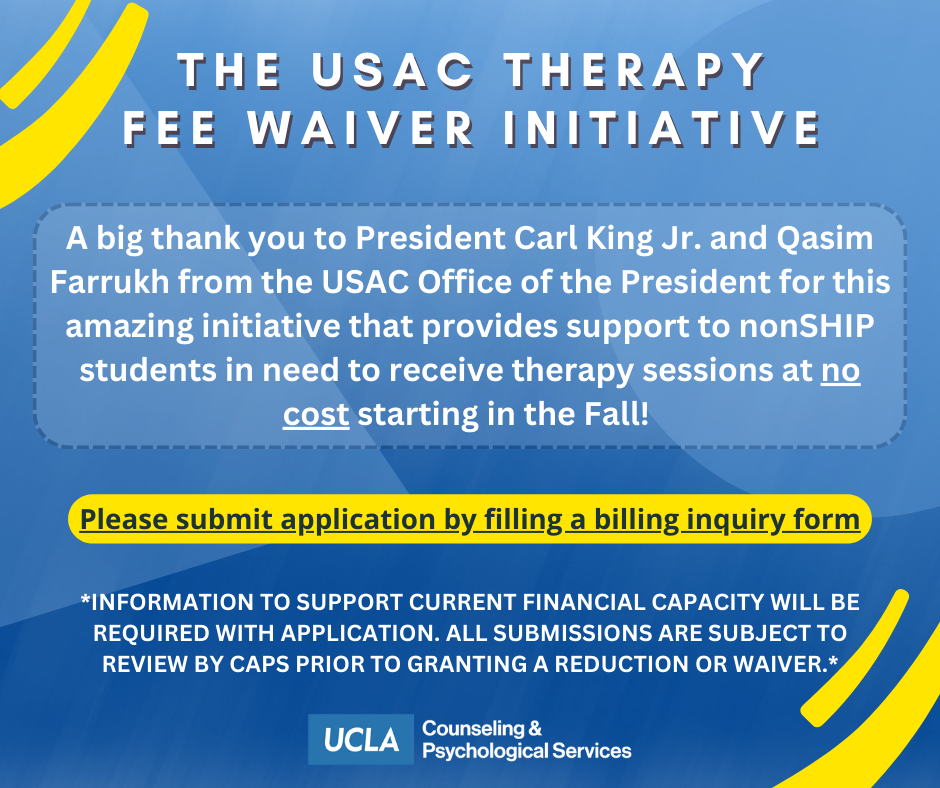 Students Not Currently Registered
Students retain limited eligibility for CAPS services for one quarter following their final registered quarter, primarily for limited follow-up and referrals. Limited eligibility students are charged increased fees for services. Call CAPS to determine your specific eligibility and fees.
UCLA Alumni and UCLA Extension Students
UCLA alumni and students enrolled through UCLA Extension are not eligible for CAPS services. See Resources to explore local mental health resources.
Summer Eligibility
Enrollment in summer sessions alone does not count towards eligibility for CAPS services.
Students' summer eligibility is based on their spring quarter/semester eligibility status.
If you have purchased UC SHIP for the Spring quarter, you will be covered by UC SHIP until the Spring coverage end date.
Students covered by their own private insurance during the Spring quarter/semester will be eligible for services with a service fee until the listed coverage end date.
Graduating students covered by private insurance are eligible for services during the summer on a Fee-For-Service basis until the beginning of the next term. CAPS may request that additional documentation be completed in order to maintain current fee rates.
Late Cancellation & Missed Appointments
CAPS has a 24-hour cancellation policy.
Appointments that are cancelled or rescheduled with less than 24 hours notice will incur a fee on the student's BruinBill: $20/individual appointment or $10/group appointment.
Appointments may be cancelled online through the Patient Portal, or by calling CAPS at (310) 825-0768.
Students may also cancel by leaving a voice message during non-business hours. The same 24-hour policy will apply and will be determined based on the time that the message is left.
Billing Questions?